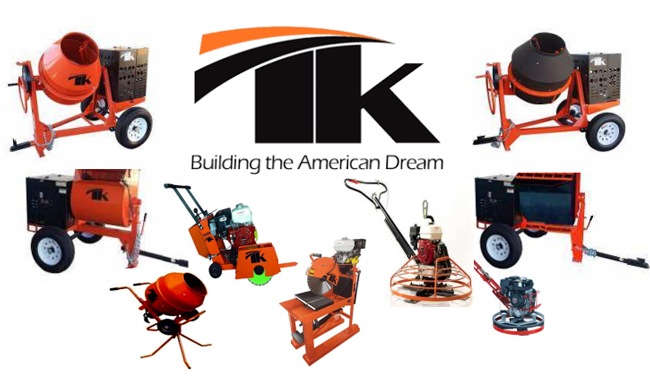 Company Information:

It all began in 1960 when TK Equipment started manufacturing light construction equipment to the construction industry. Throughout the years, TK's designs and quality have allowed us to market our products worldwide into 35 different countries. TK Equipment has acquired the volume to steadily grow in areas of production while maintaining industry-high quality standards, all well delivering products at a competitive price in the market.
After maturing our key product line, the Concrete/Mortar mixers, we decided to expand our portfolio by introducing new equipment to complement our already strong existing lines. Today TK Equipment offers a complete line of light equipment to the construction industry:
TK Equipment is also the owner of 20 rental stores in South America, which has been one of the key ingredients to the success of our company since rental customers feedback has helped us to improve our equipment and make them "Rental Tough" that's how over the years our products have acquire reputation of reduced maintenance and improved efficiency!
Products
Concrete Mixers Poly and Steel
Mortar Mixers, Poly and Steel
Power Trowels 36″ 46″ Edgar
Floor Saws 14″ 18″
Masonry Saws 20″

Downloads:
Contact Information

BTM / TK Equipment Company
14419 Atlanta Drive
Larado TEXAS 78045 USA
1-956-740-3740
Alex Tabares

Website: